OUTCOME FOR THE CUSTOMER
Trend based analysis to identify wear
The customer has undertaken regular sampling their HM400's engine oil with Komatsu over the years. The major benefit to the customer is the ability for Komatsu to measure the wear rate using trend-based analysis, a technique used to assess component life and predict the future wear rates based observed trend data.
The findings from the latest report provided Komatsu with the confidence in their findings which guided the customer to take the next steps in a timely manner.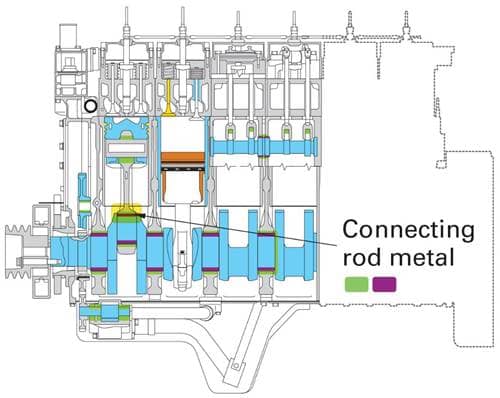 Fig: Test results returned rising trends of lead, cooper and iron, indicating bearing wear.
Communication with the customer
At the completion of the detailed Condition Monitoring Services report, the Komatsu CMS analyst make direct contact with the customer. It is Komatsu's duty to directly phone the customer when a machine is trending towards point of failure and in this case, there were no exceptions.
During the call, the customer then had advised that the machine was displaying a low oil pressure alarm, indicating that the traces of lead, iron and copper could be bearing wear.
The next immediate action advised by Komatsu to the customer was to cut and inspect the oil filter, in which the customer found it to contain large ferrous and non-ferrous fragments. This visual information helped to confirm the bearing wear.
Advising that the bearing was wearing, the phone call quickly turned into a discussion about the next steps – having a Komatsu technician on-site. The Komatsu service supervisor got in contact with the customer to schedule a date that was suitable for the customer's operations manager.
The Condition Monitoring Services report was then uploaded onto the customer's account within my.komatsu.co.nz for ease of access.

Replacement of the crankshaft and connecting rod
Upon inspection by our service technician, the engine's main bearing was removed and found to contain cavitation (image 3). Further inspection revealed damage to the thrust bearings and the crankshaft using Komatsu genuine parts.


A Condition Report by conducted by the service technician at the completion of the job to ensure the machine could be utilised without issues.